Q&A with Ruth O'Brien – Living with a Disability
To celebrate International Women's Day 2022 we caught up with Ruth O'Brien who shared her story with us.
Content note: this content may cause distress for readers. If you feel distressed after reading, please refer to the information about support options at the bottom of the page.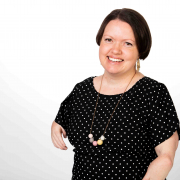 What would you like people to know about living with a disability?
I think I'd like people to understand that disability is very diverse and individual for each person. I think we often try to have a blanket approach for how to understand a topic but, in the end, humans are all individuals with their own thoughts, feelings, perspectives and experiences. For me, proudly identifying with disability to years of unpicking my own internalised ableism and building my confidence enough to be able to talk about it regularly. It's an ongoing thing though. The other point I'd like to make is that not everyone loves their disability. While many are proud and comfortable, others are not and that's ok. I don't pretend to speak for everyone with disability – just happy to share the knowledge that I have from my own life.
Why is it important for people to know more about what it is like to live with a disability?
It's important for many reasons. One is because humanity is incredibly diverse. More than a quarter of the population live with a disability or chronic illness/condition. And this is just the people who identify. It's important to be able to talk about disability as a normal part of life, because it is. By talking about these things and recognising how people with disabilities are often treated is important to improving the overall quality of our society, communities and interpersonal relationships. Another reason is any person can develop or acquire a temporary or permanent disability at any time. We need to stop fearing disability and realise that society, prejudice, stigma and discrimination is actually the disabling thing – not a person's medical diagnosis.
Is there anything you've learnt that you think might be useful for other women who are living with a disability, or for people in general?
So many things, where to start! I think one of the most enlightening things can be learning about the different models around disability and how perspectives change how we see something or someone. For years, I tried to just "fit in" and not really acknowledge my disability very much. I figured if I didn't talk about it, the topic wouldn't come up and I'd be included in everything more easily. However, learning about the social model of disability has helped me immensely in how I identify with disability. The medical and charity models tend to make people with disability feel small and the recipients of other's "act of kindness". Whereas the social and human model empowers D/deaf and Disabled people to stand up for themselves and speak about how society creates barriers to being included. Many disabled people now identify with disability much more easily because it's the barriers that are created through ignorance, unconscious bias and discrimination from others that create disability. It's the impairment in combination with the barrier that creates the disability.
Beyond Blue — 1300 22 4636 
Lifeline — 13 11 14 
https://www.womenshealthmatters.org.au/wp-content/uploads/2022/03/Ruth-OBrien-scaled.jpg
1707
2560
Jodie Kirkness
https://www.womenshealthmatters.org.au/wp-content/uploads/2020/10/logo-whm-with-byline.svg
Jodie Kirkness
2022-03-09 11:31:27
2022-03-09 14:46:52
Q&A with Ruth O'Brien – Living with a Disability