Q&A with Natalie – Breast Cancer Awareness Month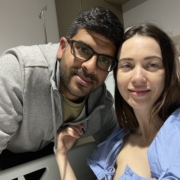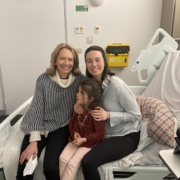 We caught up with Natalie this breast cancer awareness month.  Natalie was diagnosed with a BRCA1 gene fault at age 21 and spoke to us about how important prevention is in this space.
1. Can you tell us a bit about your experience with breast cancer?
I was diagnosed with a BRCA1 gene fault at age 21 after many women in my family had experienced breast cancer, including my mother, who was also diagnosed with the BRCA1 gene fault.
At that age, it wasn't really a big deal as my risk wasn't known to increase significantly until after the age of 30. As that birthday drew closer however, I became more and more anxious about my risk of cancer and it really started to take a toll on my mental health.
Initially I thought I'd have my children, breastfeed them all and then undergo risk reducing surgery afterwards. As a physiotherapist working in the area of women's health and treating many breastfeeding mothers, I knew that there were studies showing a potential risk reduction of some breast and ovarian cancers with breastfeeding, and this provided me some comfort.
In 2021 however, at age 33, I had three cancer scares. The first two scares involved me finding a lump in my breast, which had to be investigated, both turning out to be benign. The last scare occurred during one of my annual MRI screens, provided to women with a BRCA1 gene fault. The doctor found 'something' on the MRI. I had to have a mammogram and then an ultrasound.
Nothing was found on the mammogram but the ultrasound revealed an anomaly. I then had to have a breast tissue biopsy and waited a few days for the results. I was beside myself. Thankfully the results were clear and it was then that I decided enough was enough and booked in for my preventative double mastectomy and reconstruction, which was done in two parts in March and August this year. It was the best decision I made, particularly for my mental health.
2. How did you go about getting in for the surgery – did you face any barriers trying to organise this?
I had some recommendations for various breast surgeons in Canberra from people I had come in contact with along my BRCA1 journey and booked in appointments with a few of them to decide who I would prefer to see.
This took time and unfortunately, they didn't end up being the right fit for me. I decided to search for a health professional outside Canberra and consulted the members of Pink Hope, which is an amazing support group for people in similar situations to me. I was provided with some great recommendations and ended up booking an appointment with Dr Kylie Snook, a breast surgeon with expertise in reconstructive and oncoplastic techniques in breast surgery. She was absolutely amazing, as were her team, and I immediately knew that she was the surgeon that would be performing my mastectomy and reconstruction. She has been a huge source of strength and confidence for me during a time that could have been even more scary than it was.
3. Why is it important to take preventative action as opposed to waiting for a diagnosis if you are aware of certain genetic issues?
As a health professional, I am a huge advocate of preventative treatment. Knowledge is power and if I have the knowledge and means to prevent something sinister occurring, I'll do what needs to be done – with my patients and myself.
This is however, very scary and confronting for people to contemplate, and I really do feel for anyone who has to make the same decision as I have. At the same time, I have seen many patients with cancer over the years in my work as a physiotherapist, and what they have to go through is tough to say the least.
Each time, I think how extremely lucky I am to have been given the choice to prevent this happening to me. I am sure those men and women would jump at the chance to prevent such a horrible disease too.
In my case, particularly after the scares, it was a no brainer. Since diagnosis, I always knew I was going to have the preventative surgery and that's what I've done. If you'd like to know your risk, the Peter Mac Cancer Centre in Victoria have developed a breast cancer risk assessment and risk management decision support tool designed to facilitate prevention and screening discussions between women and their doctors. This tool is known as iPrevent and can be accessed here.
4. What would you like to tell other women who are going through the same/a similar experience?
You are not alone. Make sure you surround yourself with a wide network of support. If you have been diagnosed with a gene fault that puts you at a higher risk of cancer, I encourage you to get in touch with Pink Hope. Pink Hope is a preventative health hub that provide the tools to empower people to take control of their breast and ovarian cancer risk. There are also many women in similar situations who are linked in with this organisation so it is a great place to form connections and hear about other people's experiences.
Take it one step at a time. This pathway can quite quickly become very overwhelming. One way I coped was to try and take it all in baby steps, focussing on each day as it came rather than everything all at once.
I'll say it again, knowledge is power. It is extremely important that you link in with medical and health professionals that a) you trust and b) provide you with the most up to date evidence-based information to allow you to make a truly informed decision based on your individual circumstances.
Useful links:
https://www.womenshealthmatters.org.au/wp-content/uploads/2022/09/Natalie-2-scaled.jpg
1920
2560
Jodie Kirkness
https://www.womenshealthmatters.org.au/wp-content/uploads/2020/10/logo-whm-with-byline.svg
Jodie Kirkness
2022-10-11 08:36:42
2022-10-11 08:38:50
Q&A with Natalie – Breast Cancer Awareness Month