Identity theft and financial scams
Financial scams targeting older people are now being called 'the crime of the 21st century'. Criminals target seniors because they are thought to have a significant amount of money sitting in a retirement savings account.
So what do these sorts of scams commonly look like? They often come in the form of someone posing as a legitimate service institution, such as your bank, asking you to confirm or update your details or log in to your account online. They then use the personal information you give them to commit various forms of identity theft, such as accessing your bank accounts, taking out a credit card or building up debts in your name, or creating fake identity documents.
These fake emails and websites can be very convincing, and look almost identical to the real thing. However, there are important steps you can take to avoid this sort of online fraud.
Key things to remember:
1. None of the major Australian banks send their customers emails with links to online banking facilities.
For example, this email posing as the ANZ bank is a fake. It will take you to a fake online banking site and use the login details you provide to access your accounts: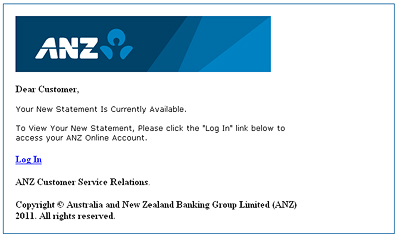 Image credit: ANZ
2. Only ever log in to online banking facilities through the bank's official website, and never click on links supplied in emails.
Can you spot the fake online banking website below?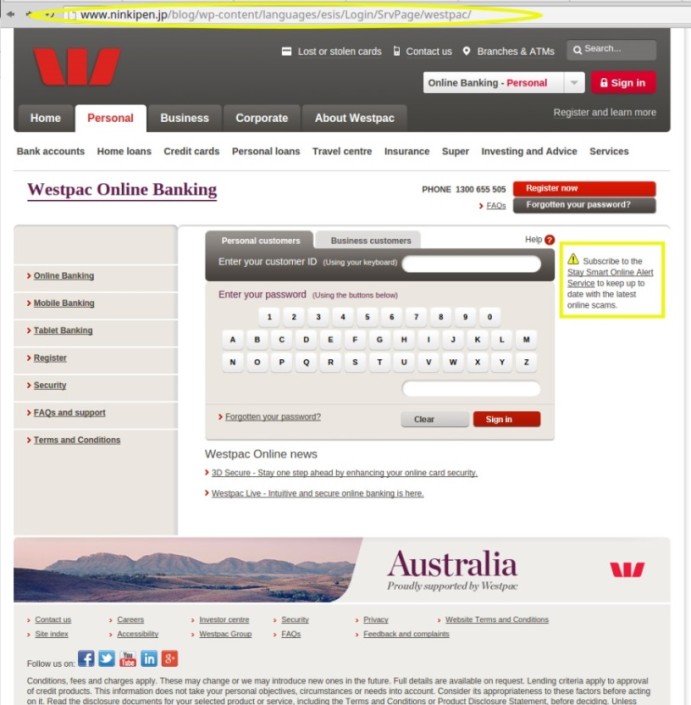 Image credit: MailGuard
Although the image above looks almost identical to the real Westpac online banking site, the website url (circled in yellow) is a clear giveaway, as it looks nothing like the real Westpac url (https://online.westpac.com.au/). If you enter your login details on this website, criminals can use them to gain access to your financial accounts and personal information.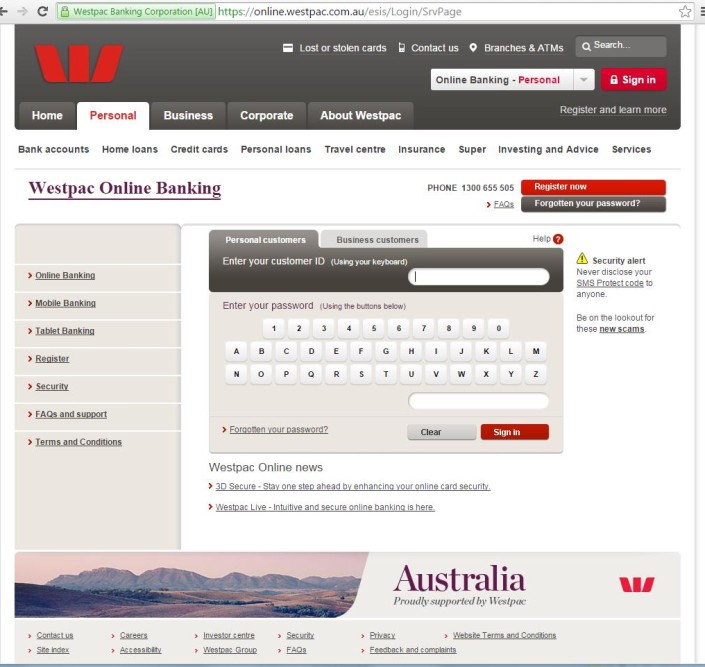 Image credit: Westpac
This is the real Westpac online banking website. This website (and all other genuine banking websites) has a website address beginning with 'https' (the 's' stands for secure) and a closed padlock symbol next to it.
3. Make sure any email correspondence from your bank (or other service institution) is sent from the bank's official email address.
Like the fake website urls, you can tell that this email is a fake because it is not sent from a Westpac official email address, circled in yellow: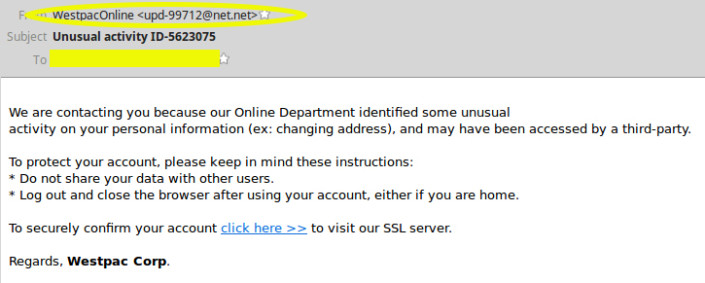 Image credit: MailGuard
4. Read the online banking security information provided by your bank:
5. If you receive an email you suspect might be a scam, contact the bank or other institution using their official customer service details.
Criminals don't just pose as banks to elicit your personal details. There are many more examples of fake emails coming from other services such as phone companies, Australia Post, Centrelink, Medicare and other government services, as in the examples below. These will generally ask you to fill out an online form with your personal details, which criminals can then access to commit identity theft.
The email addresses provided in these examples are obviously fake: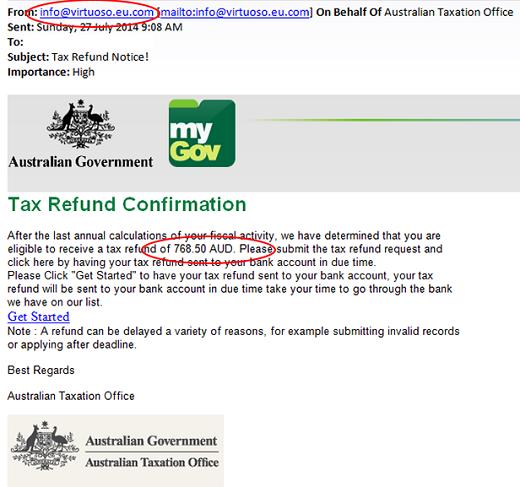 Image credit: Australian Tax Office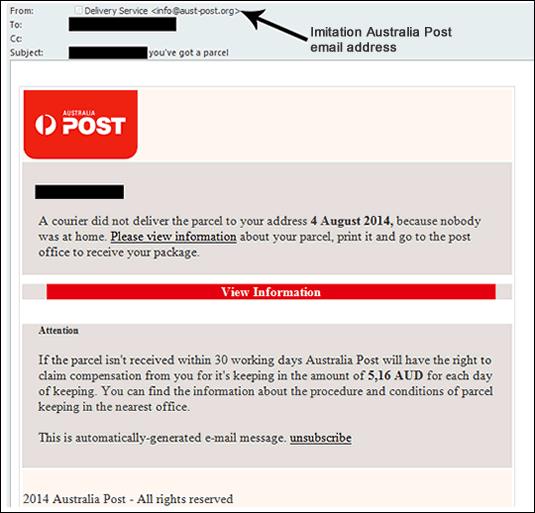 Image credit: Australia Post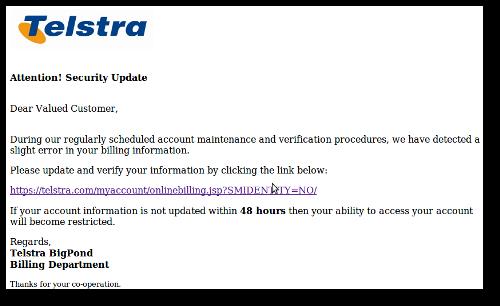 Image credit: Naked Security
Remember that financial and government institutions will never email you asking for personal or credit card details, and you should never give these to them. If in doubt, contact them by phone using their official telephone number.
6. If you receive an email from a charity asking you to donate money, do not click on the link supplied in the email.
Scammers can pose as a reputable charity and send you an email with a link to a fake website that replicates all of the content of the charity's website, changing only the details of how to donate.
This is an example of an email sent by scammers posing as the British Red Cross: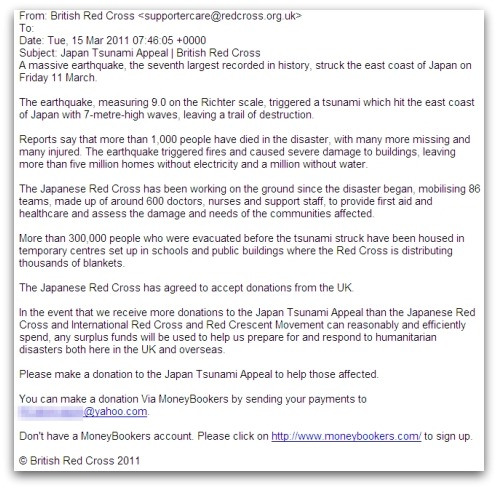 Image credit: Naked Security
If you receive an email from a charity and would like to donate, do not click on links contained in the email.  Instead, search for the charity's website and check that the donation page's web address begins with 'https' and there is a closed padlock symbol.
7. You can't win the lottery if you didn't enter!
Similar to the other scams, scammers may send you an email telling you that you have won a prize, often in a lottery, and ask for your personal details or payment of a fee before you can claim the prize. The email may even contain official looking documents to convince you that the prize and request for money or information is real, as in the images below.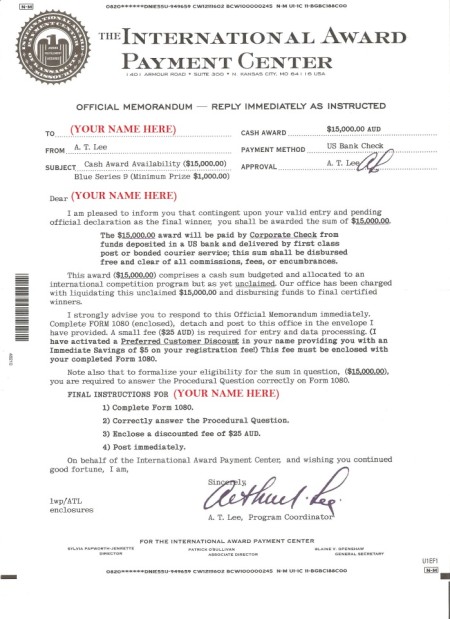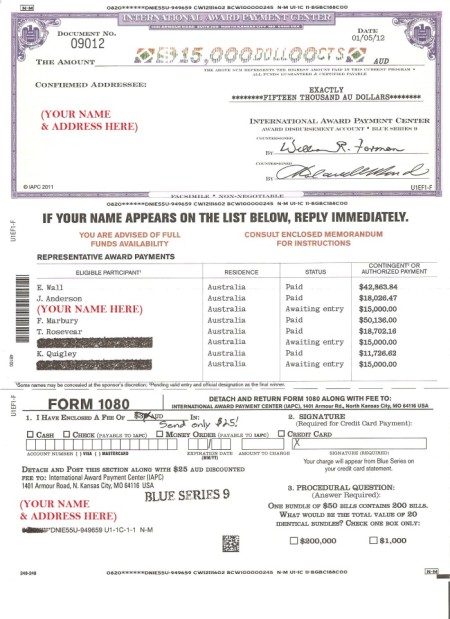 You shouldn't open emails from unknown senders. If you have not entered a competition or lottery, ignore the email. Legitimate lotteries or competitions do not require you to pay a fee to collect your winnings. If you are unsure, you can do a search online using the exact wording of the offer to check if it is legitimate.
8. Be wary of unsolicited phone calls that ask you to share personal information or log onto your computer.
Many scams begin with a phone call, often from someone posing as a legitimate service provider (such as your phone company or a government agency), asking you to provide personal information. They may even already know some details about you such as your name and address.
One particularly sneaky scam currently targeting older Australians is the following scenario:  someone phones you claiming to be from software company Windows. They provide you with their name and contact phone number, adding to the façade of legitimacy. They tell you that your computer has a virus and provide you with a complicated set of instructions to log in to your computer to fix the virus. They then tell you to transfer $550 to 'E-Commerce' as payment for their services. In reality, your computer does not have a virus and 'E-Commerce' is actually the scammer's bank account.
You can also out your phone number on the Do Not Call Register to reduce telemarketing calls. Register online at https://www.donotcall.gov.au/ or call 1300 792 958.
Other common scams to be aware of…
This is by no means a complete list of scams out there on the internet. New scams are created every day and your junk email folder is probably full of them.
There are many other well-known phone and online scams targeting seniors including:
Grandparent scam: You get a call from someone posing as a grandchild. They tell you they are in a desperate situation (such as locked in gaol or in need of urgent medical treatment) and need money wired to them.
Jury duty scam: Someone calls you posing as a courthouse officer, telling you that you failed to report for jury duty and a warrant has been issued for your arrest. They offer you the choice of either paying a fine (usually by money transfer or loading a prepaid card) or having an officer sent over to arrest you.
Utility scam: Someone posing as your utility company threatens that your service will be cut off due to unpaid bills, unless you send them money by money transfer or a prepaid card.
Online shopping scams: Scammers may sell products and then send faulty or poor quality items or not send any items.  Scammers also pretend to sell products to acquire your credit card or bank account details.
Online auction scams: Scammers utilise websites where people bid for products. After placing a bid on an item and not winning, the scammer will contact you and claim that the winner pulled out and you now have another chance to buy the item.  The scammer will ask you to pay for the item using a means other than the auction site's secure payment facility.
Online classifieds scams: These target both buyers and sellers.  Buyers are targeted by scammers who post fake advertisements for goods on legitimate websites.  They tell you the item will be delivered following receipt of payment, but it never arrives. By the time you realise this they will have your money and be uncontactable. Scammers also target sellers by making a generous offer on the item and send you a cheque or money order for more than the agreed price. They may tell you it was a mistake and ask you to refund the excess amount by money transfer. The scammer takes the chance that you will do this before you realise the cheque or money order is fake, and you will often lose both the money and the item you sold.
Online rental scams:  Fake rental flats are advertised online and you are asked to send personal information and/or deposit payments.
Health and medical scams: Scammers use social media and email to advertise cheap health and medical products such as miracle cures for health conditions, weight loss scams and fake online pharmaceuticals. These products are unregulated and often dangerous to your health. Scammers may also try to steal your credit card details or hack your computer when you make an online order.
If you think you might have been tricked into giving away money or personal/financial information, see our Where to Get Help page for the steps you should take to report it and get help.
Image credit: Open Photo
https://www.womenshealthmatters.org.au/wp-content/uploads/2020/10/identity-theft-photo-845x321-1.jpg
321
845
admin
https://www.womenshealthmatters.org.au/wp-content/uploads/2020/10/logo-whm-with-byline.svg
admin
2020-10-21 14:29:49
2020-10-22 19:55:51
Identity theft and financial scams